Firestopping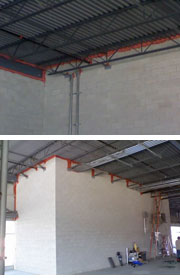 Smoke, toxic gas and water are the major causes of building fire fatalities and equipment damage. A proper firestopping system is required by the National Building Code of Canada to ensure the integrity of fire rated assemblies is maintained where they are penetrated for various types of service equipment such as pipes, cables, conduits, cable trays, ducts, or where there is a construction joint, such as a curtain wall design, gap or space.
In the design of institutional buildings such as schools or hospitals, concern for human safety dictates the use of effective penetration seals. Industrial facilities on the other hand require protection from shutdowns and business interruptions, whose cost may far exceed the actual equipment losses caused by a fire.
At Great Northern, our professionals can provide the technical expertise you require to assist you in the selection of a firestopping product to meet your needs for any projects you may have.