Fireproofing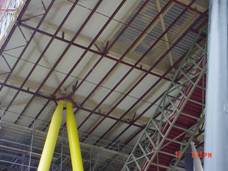 Great Northern Insulation is a professional fireproofing contractor, offering customers a unique, one-source approach to fireproofing. We specialize in cementitious fireproofing (cement-based protection); mineral fiber fireproofing (interior or semi-exposed spaces); as well as intumescent fireproofing (applied as a protective paint). Fireproofing applications would typically include steel decking, structural beams, and siding systems.
Passive Fire Protection (PFP) is a method of fireproofing that serves to contain a fire or slow the spread. Using fire-resistant materials, the building structure is protected and safeguarded. And when properly installed, Passive Fire Protection can save valuable lives, assets, and the building structure itself. When fireproofing protects the structural steel of a building, essential "egress" time is provided for both occupants and residents.
Great Northern Insulation is a qualified applicator for Grace Monokote®, Carboline® products, and AD Fire Protection Systems. Many of these spray-applied fireproofing products are widely used for interior structural steel, and very well respected throughout the world. The products bond well to steel and concrete, and form a uniform coating that is both durable and long lasting. The applications combine performance and value.
Mineral fiber products are particularly well suited for fireproofing structural steel columns, steel joists, and metal decking. When well installed, an effective level of thermal resistance (R-Value) is provided at the same time. For sidewall fire separations that require a specific "hour" rating, the mineral fiber product can perform as required. In addition to fire protection and insulation, mineral fiber is also excellent for soundproofing.
Intumescent fireproof coatings are applied as "paint". When exposed to fire, the coating swells and expands, becoming a "meringue-like" foam that protects steel from being damaged. The main benefit of intumescent fireproofing is it's aesthetic appeal. When applied, this decorative coating is ideal for exposed surfaces where appearance is important. These fireproof products are being increasingly used to fire-protect exposed structural steel.
For one-source professional fireproofing, Great Northern Insulation provides the comprehensive approach that can satisfy high-demand projects. The experts at GNI have the technical expertise and project experience to take a job from end to end - from helping clients to select the correct fireproofing product, to managing the install, to applying the product. Industrial or commercial, clients are in capable hands with the team at GNI.
Companies that choose to fire-protect their building are clearly making a smart investment. And with the right fireproofing product, burning (because of fire) can be minimized, retarded, and even prevented. Great Northern Insulation is a member of the National Fireproofing Contractors Association, an exclusive group of contractors and manufacturers who supply and install Passive Fire Protection that's required by building codes.
Quality fireproofing can mitigate the devastation of fire. It can be expedited at the building phase, during a renovation project, or as part of a routine retrofit. But bottom line, quality fireproofing will enhance a building's structural integrity. As professionals in fireproofing, GNI is committed to delivering real value – with high quality products, timely schedules, and superior installation. At GNI, every project is executed right the first time.